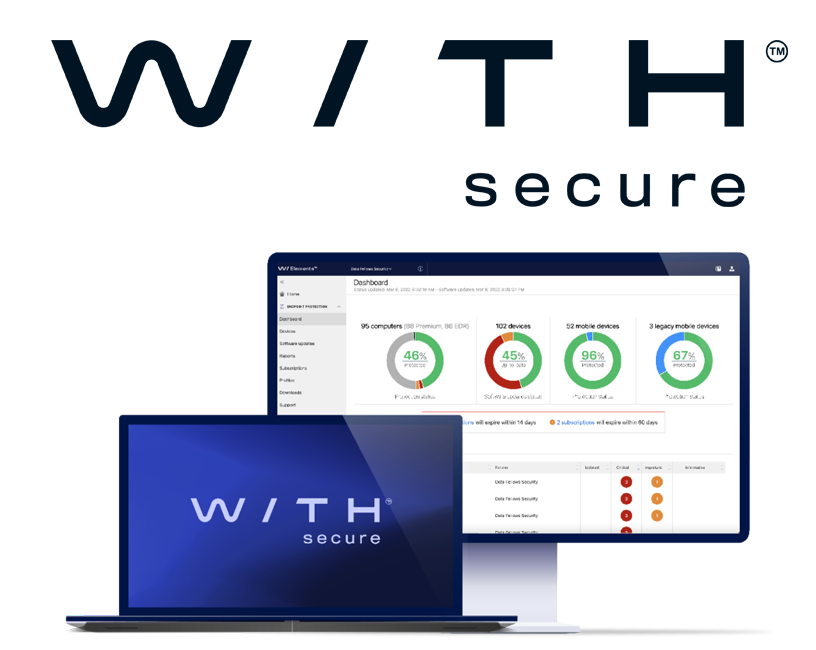 Tomorrow's Security, Delivered Today

Cyber security never stops. New attackers, tactics, and threats emerge every day. Hackers will never stop discovering and deploying new ways to breach your defenses.
It means you can't afford to slow down either – you don't want to be an easy target. This is what makes cyber security so endlessly  interesting and ruthlessly challenging all at once.
We are driven by that challenge.
WithSecure™ works tirelessly to stay one step ahead of the opposition. We know cyber security – and we are relentless.

Don't just take our word for it. In recognition of our success, we have won the prestigious 'Best Protection' award from AV-Test multiple years in a row. It is just one of the many proof points demonstrating that we deliver the best possible security now and in the future.
Mikko Hyppönen: Behind The Enemy Lines
Mikko Hyppönen, F-Secure's Chief Research Officer, talks about the importance of understanding the enemy we are fighting against today. "If we have a look at the hundreds of thousands of samples that are analyzed at the F-Secure labs we see 90% of them are from organized online crime gangs."
Overview
Confidence Through Security
WithSecure™ Elements Endpoint Protection is the best, most comprehensive endpoint protection package on the market, designed from the ground up to solve your challenging business security needs.
It protects all your endpoints, from Windows and Mac to mobile devices,
against threats like ransomware, data breaches and 0-day attacks, without
requiring significant maintenance or management overhead.
WithSecure™ Elements Endpoint Protection is the only unified multi-endpoint security solution that comes with integrated Patch Management.
We are proven to provide superior and more consistent protection than our competitors, as verified by independent security experts. Thanks to our pioneering security technologies, such as real-time threat intelligence and advanced machine learning algorithms, we are always one step ahead of the attackers.
Better protection
Get the best endpoint security solution on the market.  Merging your endpoint security into one unified package nets you better, broader, and more cost-efficient protection.
Easy Set-Up
Cloud-based management, scalable deployment, and automatic removal of old security software makes deployment painless. AV- Comparatives found our endpoint installation "no more complicated than installing iTunes."
Less overhead
Save time and money with simplified security management, automatic client and database updates, and automated patch management.
Computer Protection
WithSecure™ Elements Endpoint Protection provides powerful and modern security for your Mac* and Windows endpoints. With tools like Patch Management and real-time threat intelligence provided through the WithSecure™ Security Cloud, your security rises to a whole new level.
Computer Protection for Mac is designed specifically to compliment modern macOS security.
Supported OS: Windows 7, 8, 8.1, 10 l macOS: all versions supported by Apple
Contact Us