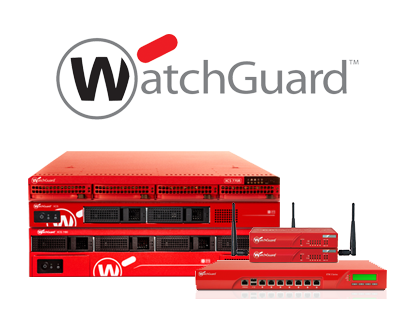 Take Back Control of Your Network
WatchGuard builds affordable, all-in-one network and content security solutions to provide defense in depth for corporate content, networks and the businesses they power.

WatchGuard's award-winning Extensible Threat Management (XTM and XTMv) network security solutions combine firewall, VPN, and security services to protect networks from spam, viruses, malware, and intrusions.


UTM Firewall Solutions
Next-Generation Firewalls
SSL VPN Solutions
Security of ONE
Take the leap to simplified cybersecurity with ONE platform that's cohesive, intelligent, and cloud-managed.
WatchGuard's Unified Security Platform is built from the ground up to enable efficient, powerful security services with increased scale and velocity while gaining operational efficiencies.
This comprehensive platform includes endpoint, multi-factor authentication, and network security products and services for protecting environments, users, and devices.
Overview
One Platform – Total Security 
It's just not enough to try protecting your organization with only a stateful firewall.   Your organization requires a complete arsenal of scanning solutions to protect itself.
 
WatchGuard Firebox is a USP (Unified Security Platform), and it helps you protect your network.  Malware, ransomware, unauthorized access, phishing attempts and more.
 
Data Center Virtualization and Cloud Infrastructure: Virtualize and consolidate servers, and do the same for networking, storage and security, at your own pace. Enable provisioning in minutes and complete your private cloud with automated management.
 
Data Center and Cloud Management: Manage virtualized and dynamic hybrid cloud environments with purpose-built tools. Unify, automate and simplify all facets of management for the highest performance, capacity utilization and compliance.
 
Infrastructure as a Service: Implement a hybrid cloud in hours with a reliable, secure cloud service that's completely interoperable with your data center. Deploy all your existing processes and applications just as they are.
 
Desktop Virtualization & Mobile Computing: Transform workforce productivity by turning siloed desktops, applications and data into mobile, centrally managed IT services that are consistent, always in compliance and securely delivered to any device.
 
Applications and Data Platform: Leverage the efficiencies of a virtualized infrastructure that is ideal to develop and deploy modern applications. Take advantage of lightweight footprints that allow for greater consolidation ratios and improved utilization.
 

WatchGuard Firebox is a comprehensive advanced network security platform that puts IT security professionals back in charge of their networks with widely deployable, enterprise-grade security and threat visibility tools suitable for any organization, regardless of budget, size, or complexity.
Contact Us