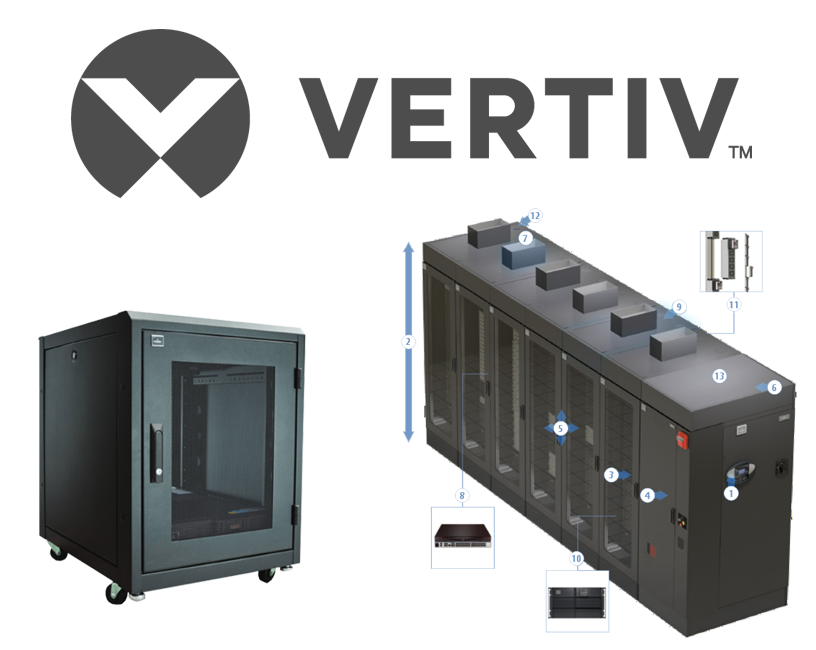 Optimize Data Center Infrastructure
Vertiv™ is the world's leading provider of critical infrastructure technologies and life cycle services for information and communications technology systems.

Technology is ever-changing and Vertiv™ uses a unique combination of industry expertise, technology and resources to make the future of your business possible.

With an expansive portfolio of intelligent, rapidly deployable hardware and software solutions for power, thermal and infrastructure management, Vertiv™ enables efficient, highly available networks.
Critical Infrastructure that Keeps the World Running – We Are Vertiv
We are Vertiv™, Architects of Continuity™, and while the world may run on data, more and more, it relies on us. Because we're the ones creating the Critical Infrastructure that Keeps the World Running.
Overview
Smart Solutions
Intelligent, integrated data c​enter solutions optimize infrastructure efficiency and capacity.
SmartCabinet™ for Branches
The SmartCabinet™ for branches from Vertiv™ is a turn-key solution that contains all supporting infrastructure needed to properly deploy IT at the branch.
SmartRow™
A simple, fully integrated row-based infrastructure combining up to ten racks, with precision cooling, UPSs, power management, monitoring and control technologies, and fire suppression; all in an enclosed system.
SmartAisle™
Optimizes infrastructure deployment and management with an intelligent row-based system integrating racks, power, row cooling, aisle containment, monitoring and control technologies for spaces with up to 40 racks.
SmartMod™ for IT
Pre-engineered from the ground up to provide complete power and cooling infrastructure and configuration flexibility with remote management and intelligent controls to accommodate your needs for economy and efficiency.
SmartMod™ for Telecom
Offers an intelligent, rapid deployable, modular enclosure for network aggregation, seamlessly connecting end users to the high speed internet backbone.
SmartDesign™
Critical data center facilities require effective planning, design and configuration to optimize performance. This requires the right expertise, coupled with optimal technologies to enable data center best practices.
AC Power/UPS
Uninterruptible power, power distribution, and enclosure solutions optimize data center design.
Thermal Management
A comprehensive approach to controlling heat in the data center and other mission-critical facilities.
Vertiv™ thermal upgrade solutions deliver a quick payback on investment by improving thermal system protection and providing the industry's highest cooling efficiency, capacity and insight to optimize data center performance. Upgrade technologies and services include:
Liebert® iCOM™ Unit Controls and Liebert iCOM-S™ System Controls.
These intelligent controls work with variable speed technologies to increase cooling efficiency by up to 50% and provide greater protection through automated self-healing routines, reduced compressor cycling, optimized airflow and air temperature and greater visibility into thermal system operations.
Liebert Variable Speed Drives (VSDs) and EC Fans.
These technologies offer a simple and cost effective way of introducing energy efficient technology by regulating airflow and reducing the fan input power with changes in IT loads. EC Fans use 10-30% less energy than the average standard AC motor and improve cooling unit protection through redundant motors. They also require less maintenance and have greater redundancy than constant speed fans and drives.
Installed Thermal Upgrades Services.
For customers and contractors not planning to manage a complex upgrade, Liebert Services can help a customer evaluate ROI and payback periods for different upgrades scenarios and streamline installation and the most comprehensive support for turnkey installation and system optimization.
Data Center Monitoring
Data center monitoring solutions provide full visibility into IT systems and infrastructure.
Monitoring
Vertiv™'s monitoring products offer real-time acquisition of data from the data center infrastructure and environment. Monitor and manage your data center with superior efficiency by gaining the ability to change operating status of managed devices at will.
Software
The monitoring solutions provided by Vertiv™ help to prevent this loss to the business and keeps your data center running at peak performance.
Battery Monitoring
Preventing battery failure is essential for delivering maximum data center availability. Liebert products incorporate Alber technology to extend battery life, reduce maintenance cost and increase safety.​
Communication Cards
Data center monitoring cards provide monitoring and control of your equipment. The cards manage a wide range of operating parameters, alarms and notifications, transmitting data over the network.
Environmental Monitoring
Data center environmental monitoring solutions deliver increased visibility and control of critical support systems for single modules, entire data centers or all critical facilities in an enterprise data center​
Transfer Switch Monitoring
Mitigate power fluctuations and identify specific areas for optimization to help you determine and apply solutions with a host of power management solutions that not only allows you to view current power and power factor readings, but also has a programmable kW set point to initiate transfer of loads to a standby source.​​
Telecommunication Network Monitoring
Monitoring units offer modular construction, extensive control capabilities, wide connectivity range, and a complete set of software functions that help enable effective site behavior and equipment performance on small telecommunications officets class.
Racks and Integrated Solutions
Advanced data center racks safeguard and manage IT and networking equipment.
Optimize data center management and performance for IT systems and data centers. Vertiv™ delivers data center racks, server rack cabinets, and enclosure solutions, from Knürr and Liebert. Data Center rack solutions support IT and networking equipment in computer rooms of all sizes, with rack enclosures that contain precision cooling, uninterruptible power, rack PDUs, and wiring management in a sturdy, lockable cabinet.
Indoor Racks and Accessories
Indoor server rack cabinets and accessories respond to an array of data center infrastructure needs, with specific solutions designed for data center optimization.​
Aisle Containment Systems
Hot aisle/cold aisle configuration separates hot and cold air streams to improve data center infrastructure efficiency. A physical barrier – containment – optimizes this configuration for better cooling operation and higher efficiency.
High Density Modular Cooling
Intelligent cooling modules afford precise data center design, supporting an advanced thermal management infrastructure.
High Density Cooling Integrated Racks
Scalable data center racks manage varying levels of heat loads to support data center best practices.​
Rack PDU
Reliable and efficient rack-based data center power distribution units provide basic distribution, remote monitoring and control at the receptacle level in data center rack environments.​​​
Rackmount UPS
Uninterruptible power systems contain the reliability, features, and flexibility required by networks and electronics in rack environments to advance data center efficiency.
Smart Solutions
Each Smart Solutions offering addresses specific needs with rapidly deployable solutions that cost-effectively add data center capacity, improve IT control and increase efficiency — to balance the most common data center objectives.
LCD Console Trays
​The LCD Console Tray family provides a variety of features that simplify and provide ease of access to servers, making software upgrades, troubleshooting and system monitoring convenient and less time consuming.
Surge Protection
Surge suppressor solutions support data center power to reduce downtime and extend equipment life.
Panelmount (Facility-wide)
Protecting a facility with this parallel line is an excellent first line of defense in limiting high impulse transients to a level that is acceptable to most electronic equipment. These high-energy surge protection products are placed in parallel with panels that are susceptible to both externally and internally generated transients. Our wide range of products offers specific surge protection levels, voltage/phase configurations, and any mode protection requirement at any panel within your facility.
Point-of-Use
Installing surge protection products at the electrical service entrance is an obvious place to start when needing power protection. However, in most cases, it's not enough. Installing protection at distribution, branch panel boards, and specific sensitive loads or (Point of Use) equipment throughout your facility is the best way to prevent damage and eliminate associated downtime to sensitive microprocessor-based electronics.
Data
High-speed data links between buildings or one part of a plant to another have become more common with the widespread use of smart transmitters and the increase in unmanned installations. Our surge protection devices are suitable for all process I/O applications with a choice of low resistance units, high bandwidth, and a variety of voltage variants.
Signal
Transmitters and sensors are widely used in highly exposed areas, where lightning damage is common. Vertiv™'s Signal Line products guard sensitive instrumentation against what we refer to as "back-door" transients.
Telecommunications
Telecommunication lines are widely used in highly exposed areas, or in long runs between buildings. Left unprotected at the primary and secondary, the conductors used in telecommunication applications are highly susceptible to transient impulses. Our telecom surge protection products are suitable for primary, secondary, and security applications.
DIN Rail
The adjustable DIN mount feature allows for fast, convenient installation within any industrial control panel.
Rackmount
A series of full-line high quality transient voltage surge protection devices especially designed to protect sensitive rack-mounted electronics. These compact units provide reliable protection from a broad range of power problems while typically using only 1U of rack space.
Plug-In
The plug-in construction makes these products ideal for easily protecting sensitive home or office equipment within harsh environments, including TVs, home theaters, satellite dishes, computers, printers, copiers, and fax machines.
Specialty Products
Associated surge protection products for typical and non-typical applications or installations.
Data Center and Networking Services
Proactive maintenance, assessments and remote monitoring and emergency response optimize data center management.​
Contact Us