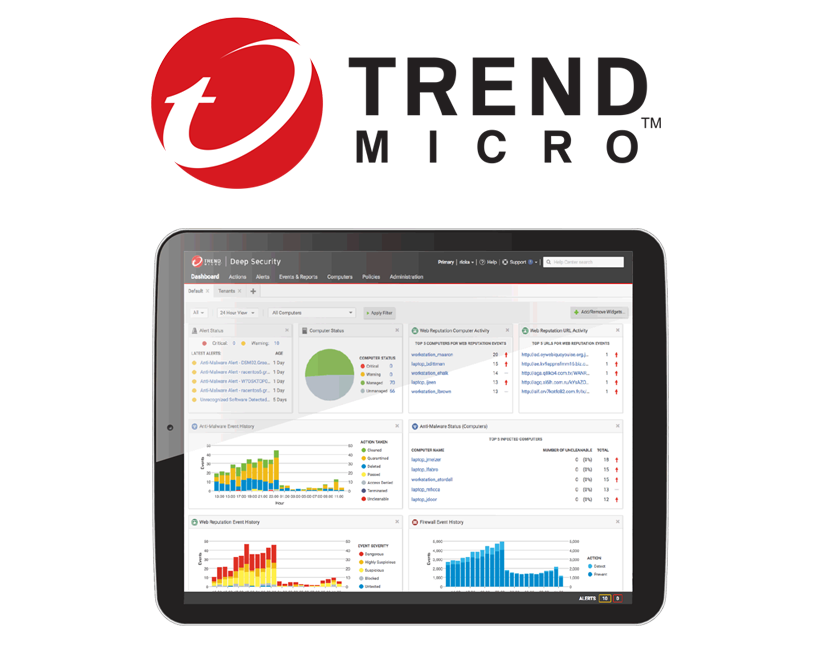 Enterprise Cyber Security Solutions
In 1988, Trend Micro was co-founded by Steve Chang, Jenny Chang, and Eva Chen to develop antivirus software – but it didn't stop there. Over the last three decades,they've become a market leader in hybrid cloud security, network defense, small business security, and endpoint security.


Connected Threat Defense: Protection across the entire threat life cycle
Centralized Visibility and Investigation: Improve visibility and protection across your enterprise
Global Threat Intelligence: Up-to-the-second, round-the-clock threat visibility and protection
A Connected Threat Defense for Tighter Security
Learn how Trend Micro's Connected Threat Defense can improve an organizations security against new, 0-day threats by connecting defense, protection, response, and visibility across our solutions.
Automate the detection of a new threat and the propagation of protections across multiple layers including endpoint, network, servers, and gateway solutions.
Overview
Hybrid Cloud Security
The Trend Micro Hybrid Cloud Security solution, controlled by XGen™ security, conveys a mix of cross-generational risk safeguard systems that have been advanced to ensure physical, virtual, and cloud workloads. It highlights Trend Micro™ Deep Security™, the "piece of the pie" pioneer in server security, and protects a large number of physical, virtual, and cloud servers around the globe.
Data Center Security
Your server security for your virtual, physical and cloud deployments should perform in a way that fits each environment efficiently and consistently. Trend Micro protects your servers without slowing you down.
Optimized for leading environments: VMware, Microsoft® Azure, and Amazon Web Services (AWS)
Seamless support for the latest data center technologies, including VMware NSX
Increased visibility and speed of response to sophisticated attacks through a Connected Threat Defense
Cloud Security
In the cloud, you can't use traditional perimeter security tools. You need security that's built for the cloud and won't impact agility. That's why we have worked closely with Amazon Web Services (AWS), Microsoft® Azure, and VMware Cloud™ on AWS to optimize Trend Micro™ Deep Security™ for these environments.
Deep API integration with AWS and Azure
Scripts for deployment, as well as templates for automation
Many security capabilities that are host-based
Virtualization Security
Comprehensive security for the modern data center: Trend Micro™ Deep Security™, powered by XGen™, provides automated security designed for modern data centers using VMware®. Only Deep Security provides seamless integration with VMware technologies and multilayered protection that can be automated to prevent attacks. And with built-in hybrid cloud security, we're ready for the cloud whenever you are.
Network Security
Detect and protect against known, unknown, and undisclosed vulnerabilities at wire speed: Powered by XGen™ security, Trend Micro Network Defense goes beyond next-gen IPS to provide a blend of cross-generational techniques that apply the right technology at the right time to deliver integrated detection and prevention of known, unknown and undisclosed threats.
Intrusion Prevention
Protect against known, unknown, and undisclosed vulnerabilities in your network: Trend Micro TippingPoint, an XGen™ security solution, provides best-of-breed intrusion prevention to protect against the full range of threats at wire speed anywhere on your network to protect your critical data and reputation.
Only complete visibility into all network traffic and activity will keep your network security ahead of targeted attacks that bypass traditional controls, exploit network vulnerabilities, and ransom or steal sensitive data, communications, and intellectual property.
Advanced Threat Protection
Detect and respond to targeted attacks moving inbound, outbound, and laterally: Trend Micro's Advanced Threat Protection solution, powered by XGen™ security, delivers a blend of cross-generational threat defense techniques that protect against targeted attacks, advanced threats, and ransomware. Featuring Trend Micro™ Deep Discovery™, Advanced Threat Protection gives you the power to detect, analyze, and respond to today's stealthy ransomware, its variants, including WannaCry, and targeted attacks in real time.
User Protection
Your users are a key source of risk in your organization – they want to work where and how they want. How do you ensure that your corporate information is free from prying eyes and that your users aren't creating gaps in your security? Trend Micro User Protection, an XGen™ security solution, protects your users against today's ever-changing threats like fileless malware, targeted attacks, and ransomware variants, including WannaCry. Multiple integrated layers of protection across endpoint, email, web and SaaS applications, protect your users regardless of device, application, network, or location.
Endpoint & Gateway Suites
Shield your users from the gateway to the endpoint with maximum XGen™ security. Trend Micro Smart Protection Suites with XGen™ security infuse high-fidelity machine learning into a blend of threat protection techniques to eliminate security gaps across any user activity and any endpoint.
The solution minimizes impact by keeping users running smoothly and reducing management time with centralized visibility across endpoints, email, web, and SaaS services.
Endpoint Security
Defend against the threats of today and tomorrow with XGen™ security.
In a changing, advanced threat landscape where signature-based technologies alone are not a sufficient defense, Trend Micro XGen™ security gives you the complete threat security you need to safeguard your users and corporate information.
You get multiple layers of advanced XGen™ threat and malware protection with techniques like high fidelity machine learning, behavioral analysis, exploit protection, advanced protection against ransomware variants (like WannaCry), file reputation, variant protection, intrusion prevention, command and control blocking, browser exploit protection, application whitelisting, web reputation, sandbox integration and more.
Email Security
Stop phishing, malware, ransomware, fraud, and targeted attacks from infiltrating your enterprise
To stop widespread phishing attacks, you need security that examines all aspects of the attack. We provide:
Business Email Compromise (BEC) detection technology based on artificial intelligence to find email scammers impersonating executives
The only email solution with machine learning- based anti-malware to quickly find the most unknown threats.
Sandbox detonation for further behavioral analysis using technology top-rated by NSS Labs
URL analysis both during transit and in real-time when a link is clicked
Web Security
Protects your users and their information from web-based threats.
The Trend Micro Secure Web Gateway, powered by XGen™ security, stops threats at the gateway before they ever get to your endpoints or mobile devices. It leverages the real-time protection of Trend Micro™ Smart Protection Network™ and uses the strongest advanced threat protection, including anti-malware, URL filtering, web reputation, and protection against ransomware and its variants, including WannaCry.
SaaS Application Security
Advanced threat and data protection for Office 365 and cloud file-sharing services.
Uncovers ransomware, Business Email Compromise (BEC), and other malicious attacks: Cloud App Security finds unknown malware by using pre-execution machine learning. The document exploit detection engine discovers malware hidden in office files and artificial intelligence checks email behavior and intention to identify BEC attacks. In the last two years, Cloud App Security has stopped 6 million high-risk threats that weren't caught by Microsoft.
Endpoint Detection & Response
Discover, investigate, and respond to attacks on endpoints and servers
Targeted attacks and advanced threats have clearly proven their ability to evade conventional security defenses and remain undetected while stealing corporate data and intellectual property. Advanced threat protection appliances can detect these attack activities at the network level, but they cannot always verify endpoint infiltration, and they can't single-handedly investigate the details and extent of the attack across the entire enterprise.
Contact Us