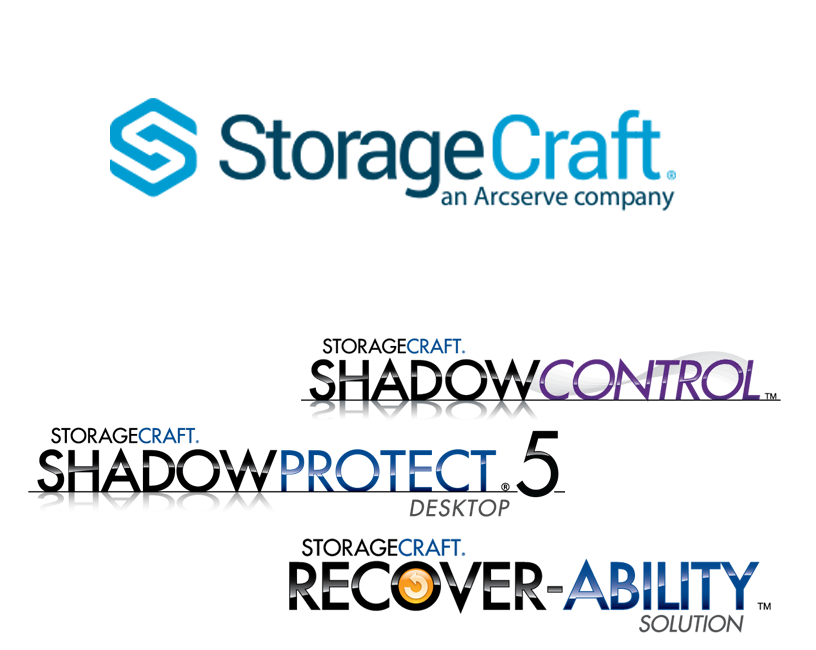 Disaster Recovery
Recover anytime, anywhere from a disaster, in less than 5 minutes!:


StorageCraft's Recover-Ability Solution
Backup: Creating a copy of everything – systems, applications, services, data – is the linchpin of any decent backup and disaster recovery plan.
Replication: Duplicating your backups to another location ensures that you can access them, even if your local versions are destroyed.
Management: Taking control of your backups ensures they'll work when you need them and won't eat up your precious storage space.
Recovery: Getting your business running again immediately following a disaster is the whole point.
New Era in Data Protection
StorageCraft (Arcserve) is your partner in business continuity.
Look no further than Arcserve for total data protection.  They are focused on preserving your business's existence in the face of cyber attacks and other disasters.
Overview
The StorageCraft Recover-Ability solution includes:

Create reliable backup images of your systems, applications, and data. With this best-in-class backup and disaster recovery software, these backup images are easy to recover every time. StorageCraft ShadowProtect® includes StorageCraft VirtualBoot™ and StorageCraft Hardware Independent Restore™ technologies to further aid smooth recoveries.

Verify the quality of your backup images and manage your storage space. StorageCraft ImageManager™ comes with StorageCraft intelligentFTP® and StorageCraft ShadowStream® file-transfer options for replicating to an offsite location and StorageCraft HeadStart Restore® technology for a flying start after disaster.

Copy your backups to StorageCraft Cloud Services™ data centers. Your data stays safe and accessible from anywhere should your local backup be destroyed during a site-wide disaster. With StorageCraft ShadowCloud™ technology, you can even instantly virtualize your backed-up machines in the cloud.
Keep an eye on every machine you back up and be alerted to issues. StorageCraft ShadowControl® CMD enables you to monitor your entire backup environment so that you can be sure your backups will be ready when you need them.
Contact Us