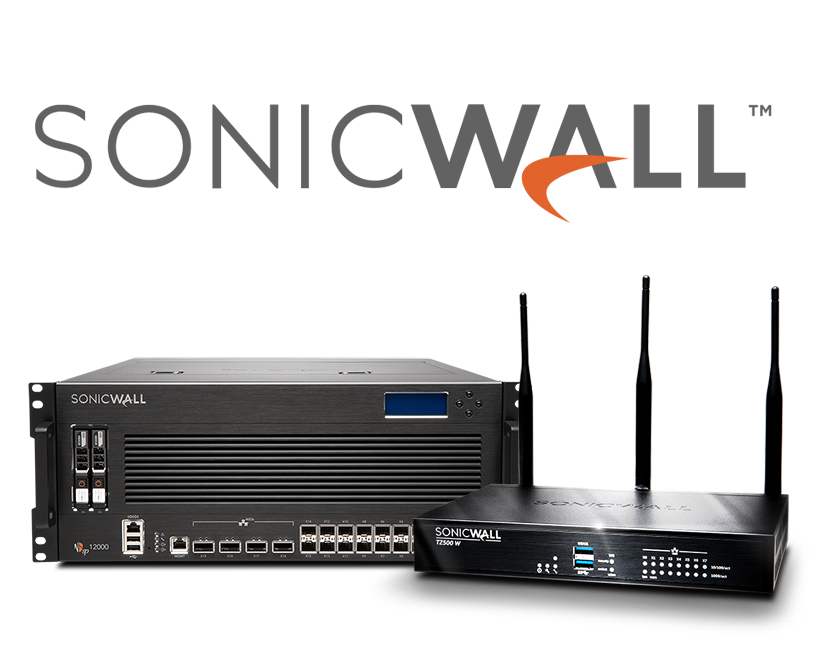 Security Products
SonicWALL® provides intelligent network security and data protection solutions that enable customers and partners to dynamically secure, control, and scale their global networks.

SonicWALL® provides intelligent network security and data protection solutions that enable customers and partners to dynamically secure, control, and scale their global networks.

Using input from millions of shared touch points in the SonicWALL Global Response Intelligent Defense (GRID) Network, the SonicWALL Threat Center provides continuous communication, feedback, and analysis of the nature and changing behavior of threats.


Network Security
Secure Remote Access
Email Security
Management & Reporting
Security Has Never Felt so Free
Distributed workforces are on the rise. Hybrid environments are the norm. And the future needs within and beyond your network remain uncertain. More than ever, you need proven protection you can trust.
Legacy cybersecurity methods are full of blind spots and built around office-centric workforces. SonicWall Boundless Cybersecurity moves away from constrained security approaches to modern, unbound and cost-effective security you can trust.
It's time to go Boundless. Security has never felt so free.
Overview
Cloud App Security
SonicWall Cloud App Security delivers next-gen security for SaaS applications such as Office 365 and G Suite, protecting email, data and user credentials from advanced threats while ensuring compliance in the cloud.
If you are moving to the cloud, SonicWall provides best-in-class API-based security with low TCO, minimal deployment overhead and a seamless user experience.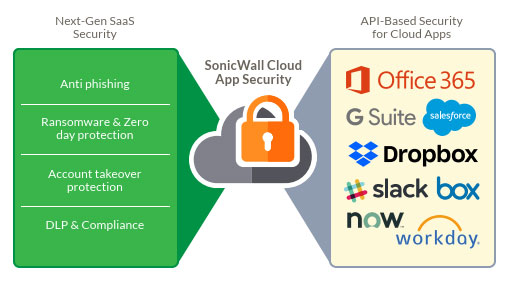 Visibility: Identify all the cloud services (both sanctioned and unsanctioned) used by an organization's employees. This includes visibility of east-west traffic (cloud-to-cloud) as users can authenticate to unsanctioned apps using sanctioned IT such as Office 365.
Next-Gen Email Security: As email becomes the most popular SaaS app used, protecting this popular threat vector is key for SaaS security. The solution includes attachment sandboxing, advanced URL protection and Business Email Compromise (BEC) protection.
Advanced Threat Protection: Prevent malware propagation through apps such as OneDrive, Box and Dropbox with real-time anti-virus scanning for known threats and Capture ATP sandboxing for zero-days and unknown threats.
Data Security: Enforce data-centric security policies by offering granular access controls and preventing upload of sensitive or confidential files. The solution incorporates role-based policy tools, data classification, and loss prevention technologies to monitor user activity and block, or limit access.
Compliance: The solution collects extensive audit trail of every action, including real-time and historical events, and provides simple DLP templates to enforce policy controls and regulatory compliance in real time.
SonicWall Cloud App Security solution delivers out-of-band scanning of traffic to sanctioned and unsanctioned SaaS applications using APIs and traffic log analysis.
The solution seamlessly integrates with the sanctioned SaaS applications using native APIs, providing CASB functionalities- visibility, advanced threat protection, data loss prevention (DLP) and compliance. When deployed with SonicWall next-gen firewall (NGFW), Cloud App security offers shadow IT visibility and control for cloud usage on the network.
The solution empowers IT departments to roll out SaaS applications without compromising on security and compliance. Administrators can set consistent policies across all the SaaS applications deployed within the organization from a single console. Use available DLP and compliance reporting templates to quickly close security gaps and set custom policies to fulfill business and regulatory needs. Whether you have a few hundred users or hundreds of thousands of employees distributed across the globe, the solution can scale to meet your needs without the need to install and manage hardware.
Email Security
Powerful protection against inbound and outbound email threats.

Email is crucial for your business communication, but it can also expose your business to sabotage. SonicWALL™ Email Security protects your business against viruses, zombies, spam, phishing and other attacks by leveraging multiple proven and patented1 threat detection techniques plus a unique worldwide attack identification and monitoring network. Easy to set up and administer, you can scale your email security deployment from 10 to 100,000 mailboxes. Email Security also prevents confidential data leaks and regulatory violations with advanced compliance scanning and management.

The Email Security platform.

With innovative protection techniques for both inbound and outbound email plus unique management tools, the Email Security platform delivers superior email protection today while standing ready to stop the new attacks of tomorrow.
Email Security Appliances.
Businesses with 25 users or more that desire complete inbound and outbound email protection on one system, from one vendor, can benefit from a SonicWALL Email Security appliance with a hardened Linux-based OS.
Email Security Virtual Appliance
The SonicWALL Email Security Virtual Appliance provides the same powerful protection as a traditional SonicWALL Email Security appliance, only in a virtual form, to optimize utilization, ease migration and reduce capital costs.
Network Security
Achieve deep threat prevention with cloud-assisted anti-malware, advanced intrusion prevention, high-speed SSL inspection and granular application control.



Products Include:

SuperMassive Series With its scalable multi-core architecture, this high performance Next-Generation Firewall series provides superior protection and advanced application control for large enterprises, government, universities and service providers.

 

NSA Series The NSA Series Next-Generation Firewall provides security, reliability, and performance for distributed enterprises, small- to medium-sized organizations, branch offices, school campuses and government agencies. The NSA Series minimizes deployment cost and complexity by integrating multiple technologies into a single security appliance.
TZ Series The SonicWALL TZ Series is the industry leading Unified Threat Management (UTM) firewall for small businesses, retail deployments, distributed enterprises, remote sites and branch offices, providing high performance intrusion prevention, malware blocking, content/URL filtering and application control capabilities.
WXA Series The SonicWALL WAN Acceleration Appliance (WXA) Series improves the end user experience and increases the effectiveness of existing infrastructure by reducing application latency and conserving bandwidth for small- to medium-sized organizations with remote and branch offices.
Clean Wireless Series SonicWALL Clean Wireless solutions combine high performance 802.11 technology with our award-winning line of Next-Generation Firewalls to deliver unparalleled wireless security and performance while drastically simplifying network set up and management.
Management & Reporting
Management & Reporting
SonicWALL's management and reporting solutions provide a comprehensive architecture for centrally creating and managing security policies, providing real-time monitoring and alerts, and delivering intuitive compliance and usage reports, all from a single management interface. Whether your organization is a small- or medium-sized business, a distributed enterprise or a managed service provider, SonicWALL™ offers software and appliance solutions to meet its needs.
Global Management System
The award-winning SonicWALL Global Management System (GMS®) provides organizations, distributed enterprises and service providers with a flexible, powerful and intuitive solution to centrally manage and rapidly deploy SonicWALL firewall, anti-spam, backup and recovery, and secure remote access solutions.
Scrutinizer
SonicWALL Scrutinizer is a multi-vendor, flow-based application traffic analytics, visualization and reporting tool to measure and troubleshoot network performance and utilization while increasing productivity for enterprises and service providers.
Analyzer
SonicWALL Analyzer is an affordable, easy to use web-based traffic analytics and reporting tool that provides real-time and historical insight into the health, performance and security of the network.
Contact Us