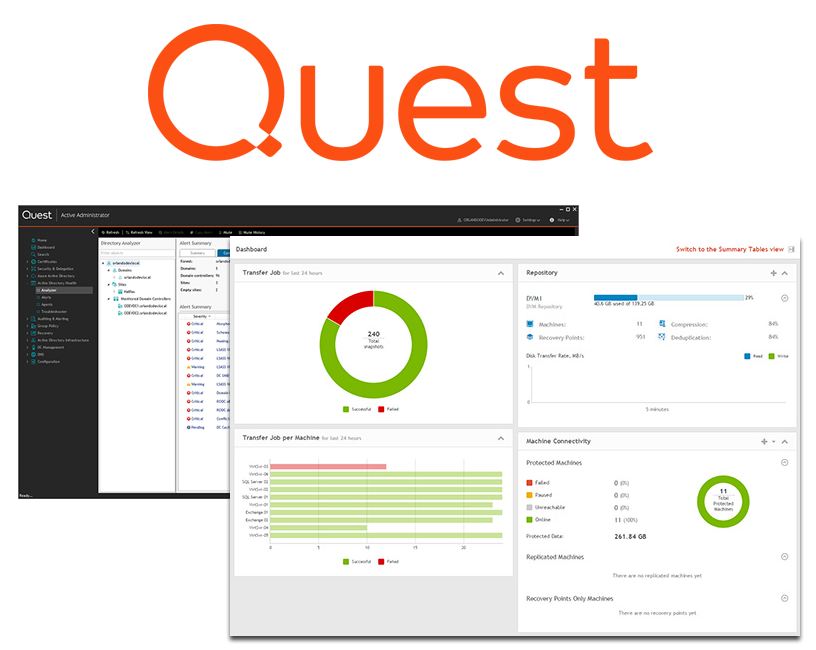 Simple IT management for a complex world
Technology keeps changing. Whether it's digital transformation, cloud expansion, security threats or something new, Quest helps you solve complex problems with simple solutions.


Data Protection
Database Management
Endpoint Systems Management
Hybrid Active Directory Security
Microsoft Migration & Consolidation
Performance Monitoring
Quest: Where Next Meets Now
Quest creates software solutions that make the benefits of new technology real in an increasingly complex IT landscape.
From database and systems management, to Active Directory and Office 365 management, and cyber security resilience, Quest helps customers solve their next IT challenge now.
Overview
Leverage an always-on, easy-to-manage infrastructure that delivers a full-system, instant recovery to get back online in under 15 minutes.
More than 70,000 customers worldwide depend on us to protect their applications and data with an always-on, easy-to-manage infrastructure. Count on us for a ZeroIMPACT, full-system, instant-recovery solution that gets you back online in as little as 15 minutes. Our backup and recovery solutions help you transform your IT infrastructure as you adopt cloud, mobile applications, and big data projects.
AppAssure
DR Series
Foglight for Virtualization Enterprise Edition
NetVault Backup
Rapid Recovery
vRanger
Quest customers say:
Saving 20 hours a week in administration
Increasing performance by 10 times
Reducing costs by more than $50,000
Database Management
Automate development and administration tasks to increase productivity, optimize performance, ensure top-quality code and reduce costs.
database management system (DBMS) is computer software that enables users and applications to store, modify and analyze a database. Today's database technology is becoming increasingly complex, and supports previously unthinkable data volumes – all driven by the demands of today's always-on economy. This drives most organizations to spend up to 75% of their time just keeping the lights on, leaving very little time to deliver innovations that move the business forward.
SharePlex
Spotlight on SQL Server Enterprise
Toad for DB2
Toad for Oracle
Toad for SAP Solutions
Toad for SQL Server
Endpoint Systems Management
Easily provision, manage, secure, and service your growing organization's network-connected devices with integrated appliances that deliver fast ROI.
Your precious IT resources and budget shouldn't be held hostage to manual software management tasks, multiple point solutions that leave critical gaps, or overly complex and expensive software suites.
KACE as a Service
KACE Asset Management Appliance
KACE Systems Deployment Appliance
KACE Systems Management Appliance
Stat
vWorkspace
Hybrid Active Directory Security
Continually assess, monitor and control your environment to simplify GDPR compliance in Microsoft environments.
Office 365® adoption grows, many businesses will synchronize their Active Directory® (AD) with Azure® AD, creating a hybrid AD environment with on-premises AD providing authentication and authorization services. That means, if AD isn't properly secured, Office 365 won't be either.
Our solutions for hybrid AD security enable you to take control of your hybrid AD infrastructure and improve your security posture both on premises and in the cloud. Discover how you can be more productive, secure and aligned to your business with an end-to-end solution that helps you:
Understand who has access to what resources
Know when suspicious activities occur
Remediate unauthorized actions immediately
Recover from security incidents
Microsoft Platform Migration & Consolidation
Automate migration, management and security functions for Active Directory®, Exchange, Lync®, SharePoint®, Office 365™ and more.
Change Auditor
Enterprise Reporter
Migration Manager for AD
Migration Manager for Exchange
Migrator for Notes to Exchange
On Demand Migration for Email
Performance Monitoring
Maximize the performance and availability of key applications and databases while simplifying management – for the best possible user experience.
Maximize your virtual infrastructure. Unlike other performance monitoring tools, Foglight provides holistic insights into virtualization management – including VMware, Hyper-V and OpenStack; databases running on SQL Server, Oracle, DB2 and Sybase; and end-to-end real user monitoring from the network that applications run on into the Java and .Net code.
Foglight
Foglight for Virtualization Enterprise Edition
LiteSpeed for SQL Server
Migrator for GroupWise
Performance Analysis for SQL Server
Secure Copy
Contact Us