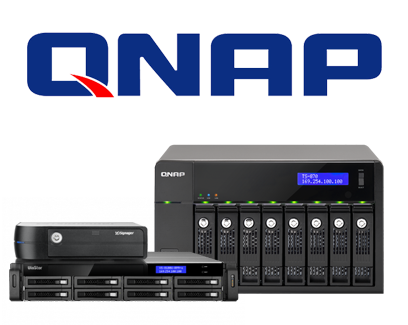 Quality Network Appliance Provider
QNAP, Inc., as its brand promise "Quality Network Appliance Provider", focuses on delivering cutting edge NAS (network attached storage) and NVR (network video recorder) solutions featured with ease-of-use, robust operation, large storage capacity, and trustworthy reliability.


Network attached storage
Surveillance storage solutions
Digital signage systems
Archival storage solutions
Simplify Your Day With PRTG Network Monitor
Monitor your entire IT infrastructure with PRTG Network Monitor. You have full insight into your network and its performance, to ensure that all business critical components of your IT infrastructure are running smoothly, with 100% uptime.
Over 200,000 IT administrators in more than 170 countries rely on PRTG and gain peace of mind, confidence and convenience.
Overview
Turbo NAS for Business
VMware® Ready, Citrix® Ready, and Microsoft® Hyper-V compatible
High performance, secure, reliable, and simple
10 GbE ready reaching over 1,000 MB/s and 200,000 IOPS
Multi-core processor, DDR3, SATA 6Gb/s, and USB 3.0
Windows AD/ACL, LDAP, and more
IT efficiency, coupled with low total cost of ownership (TCO) is an essential factor for business competitiveness. QNAP Turbo NAS features high performance, business critical applications, and affordability; helping businesses achieve seamless file sharing, easy integration into existing networks, flexible virtualized IT environments, and many other advanced capabilities for keeping businesses running at maximum efficiency.
File Sharing
Cross platform file sharing for smooth transfer of documents and other files.


iSCSI & Virtualization
Virtualization-ready with VAAI and vSphere Client plug-in support, saving costs and optimizing networked storage utilization.


Backup
A reliable backup solution with large storage capacity and impressive file transfer speeds.


Storage
Comprehensive RAID configurations fulfill data redundancy and flexible storage capacity expansion.


Management
User-friendly graphic interface with numerous supportive management tools.


Applications
Web server, printer server, and other applications available with App Center apps.


Privileges
Well-rounded user privilege design for centralized account management and authentication.


Networks
Useful network settings provide convenience and ease of use.


Security
Features encrypted access, IP blocking, hard drive encryption and Antivirus to create a more secure network.


Mobile access
iOS®, Android™ and Windows® mobile apps make accessing a Turbo NAS via mobile devices a snap.


Surveillance
Create an IP-camera based surveillance solution for securing business offices and shops.


Eco-friendly
Designed with green technology to achieve maximum efficiency; resulting in lower costs and a smaller carbon footprint.


Utilities
Various handy utilities are available for you to work smartly with your Turbo NAS.


Surveillance Station
Professional Network Video Recorder (NVR)

Surveillance Station by QNAP is a professional network surveillance system VMS (Video Management System). It's one of the Turbo NAS standard applications and can be activated on the QTS App Centre in order to turn the Turbo NAS into a professional Network Video Recorder solution for real time monitoring, recording, playback, alarm notifications as well as management to keep your assets safe when used with supported IP cameras.
Maintaining accessible and reliable live surveillance feeds is essential for properties such as retail stores, hotels, construction sites, offices, and at home. With the Surveillance Station, you can easily manage & monitor multiple IP cameras on a real-time basis through web browsers, and attain the first-hand status of monitored corners, such as building gates, office entrances, or emergency exits, safeguarding your staff and property.

Various remote monitoring modes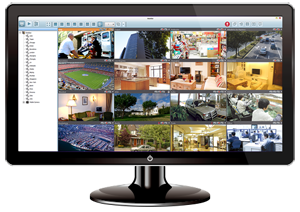 The Surveillance Station supports various monitoring modes to display 1, 4, 6, 8, 9, 10, 12, 16, 20, 25, 36, 42, and 64 channels on a single screen. Users can also choose to sequentially display each channel or use dual displays to have a wider view.
Contact Us