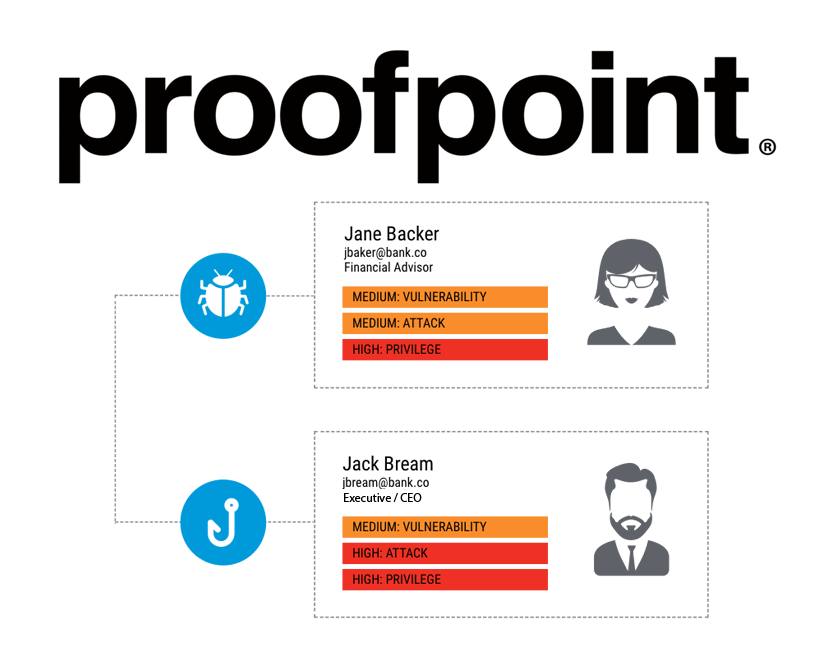 Protection Starts With People
Proofpoint is a leading cybersecurity company that protects organizations' greatest assets and biggest risks: their people.
With an integrated suite of cloud-based solutions, they help companies around the world stop targeted threats, safeguard their data and streamline compliance.
Leading organizations of all sizes, including more than half of the Fortune 1000, rely on  them for people-centric security and compliance solutions that mitigate their most critical risks across email, the cloud, social media and the web..

 
Network Protection solutions
End-User Protection solutions
Security Awareness Training
Server Protection solutions
Protect against data loss and insider threats
Protecting your organization from data loss and insider threats isn't easy. It requires visibility into sensitive content, detection of user risk and threats for contextualized insights, and comprehensive real-time access and data controls.
Proofpoint Information and Cloud Security platform can help. It provides you with comprehensive data loss prevention across key channels, accelerates insider investigations, and blocks cloud-delivered threats.
Overview
Products
Your people are your new perimeter, and since attackers now see your people as their target of choice, you need to change your strategy to defending your users. Whether they work at the office, or remotely.
Protection and Security for your organization's email
Defend against threats, ensure business continuity, and implement email policies.
Email Protection
Email Fraud Defense
Secure Email Relay
Threat Response Auto-Pull
Sendmail Open Source
Essentials for Small Business
Advanced Threat Protection
Protect against email, mobile, social and desktop threats.
Targeted Attack Protection in Email
Email Isolation
Threat Response
Emerging Threats Intelligence
Proofpoint Essentials Threat Protection
Your organization's cybersecurity solution isn't complete if you don't take  people into account. Proofpoint Essentials – Threat Protection is a cost-effective and easy-to-manage security bundle designed for small to midsize businesses (SMBs). It features email data loss prevention (DLP) and encryption to protect your data. But it also goes the extra mile by safeguarding your greatest security risk— your people.
Training on Security Awareness
Engage your users and turn them into a strong line of defense against phishing and other cyber attacks.
Simulated Phishing and Knowledge Assessments
Training Modules, Videos and Materials
Phishing Email Reporting and Analysis
Business Intelligence
Security for your Cloud
Defend against threats, protect your data, and secure access.
Browser Isolation
Cloud Account Defense
Cloud App Security Broker
Web Security
Secure Access
Archiving, Compliance
Reduce risk, control costs and improve data visibility to ensure compliance.
Capture & Monitor
Content Capture
Content Patrol
Compliance Gateway
Archiving
Enterprise Archive
Intelligent Supervision
E-discovery Analytics
NexusAI Compliance
Information Protection
Protect from data loss by negligent, compromised, and malicious users.
Enterprise Data Loss Prevention (DLP)
Insider Threat Management
Intelligent Classification and Protection
Endpoint Data Loss Prevention (DLP)
Email Data Loss Prevention (DLP)
Email Encryption
Data Discover
Digital Risk Protection
Protect against digital security risks across web domains, social media and the deep and dark web.
Social Media Protection
Domain Fraud Monitoring
Executive and Location Threat Monitoring
Empower your I.T. department and Legal Team to handle, monitor and supervise all of your organization's platforms.
Premium Security Services
Get deeper insight with on-call, personalized assistance from our expert team.
Technical Account Managers
Proofpoint Threat Information Services
Managed Services for Security Awareness Training
People-Centric Security Program
Managed Email Security
Managed Services for Information Protection
Insider Threat Management Services
Compliance and Archiving Services
Consultative Services
Contact Us