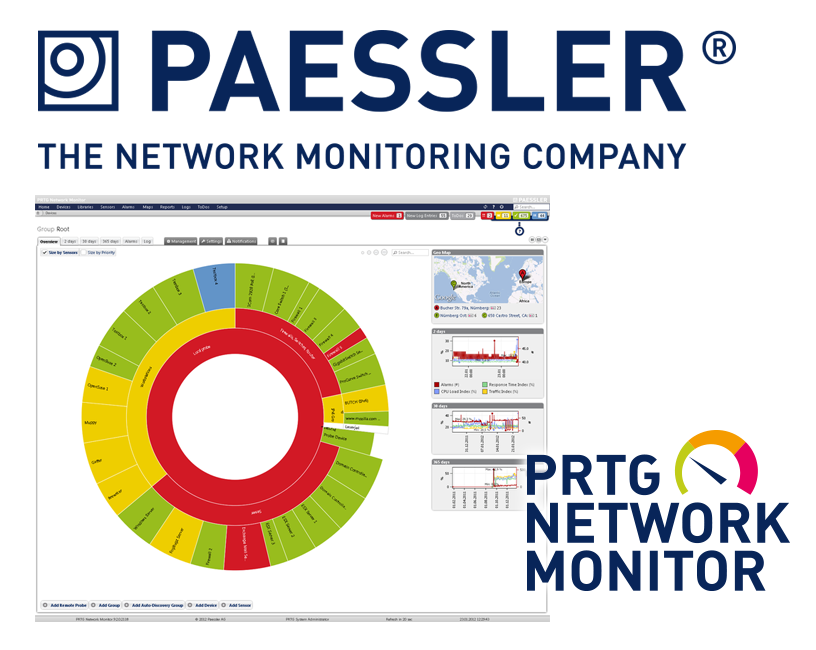 The Network Monitoring Company
PRTG Traffic Grapher monitors and categorizes data traffic within a network to provide accurate results about network traffic and usage trends. It displays the results in various easy-to-read graphs and tables, and can easily be customized and adapted to your needs.


 
Flexible Alerting
Several User Interfaces
Cluster Failover Solution
Maps & Dashboards
Distributed Monitoring
PRTG Network Monitor: making the lives of sysadmins easier
Monitor your network, systems, applications, and more with PRTG Network Monitor.
Why PRTG? Monitor all the systems, devices, traffic, and applications in your IT infrastructure. Everything is included with PRTG; there is no need for additional plugins or downloads. PRTG is a powerful and easy-to-use solution, which is suitable for businesses of all sizes.
Overview
PRTG Network Monitor
PRTG monitors all systems, devices, traffic and applications of your IT infrastructure using these technologies:
SNMP: ready to use and custom options
WMI and Windows Performance Counters
SSH: for Linux/Unix and MacOS systems
Flows and Packet Sniffing
HTTP requests
Any REST API returning XML or JSON
Ping, SQL and many more
 

Monitoring Helps You to Optimize Your Network
With PRTG Traffic Grapher you will receive bandwidth and network usage data that helps optimize the efficiency of your network. Understanding bandwidth and resource consumption is the key to better network management:
Avoid bandwidth and server performance bottlenecks
Find out what applications or servers use up your bandwidth
Plan upgrades of your infrastructure strategically
Deliver better quality of service to your users by being proactive
Reduce costs by buying bandwidth and hardware according to actual load traffic by using a switch with a »monitoring« port.
Netflow: The NetFlow protocol is supported by most Cisco routers to measure bandwidth usage. Although being the most complex type to set up it is also the most powerful method suitable for high traffic networks.
 
How Network and Bandwidth Usage Monitoring Works
PRTG Traffic Grapher runs on a Windows machine in your network for 24 hours every day and constantly records the network usage parameters. The recorded data is stored in an internal database for later reference.
Using an easy-to-use Windows interface you can configure the monitored sensors as well as create usage reports. For remote access PRTG Traffic Grapher comes with a built-in web server to provide access to graphs and tables.
 
All Common Methods for Network Usage Data Acquisition are Supported
SNMP: Simple Network Management Protocol is the basic method of gathering bandwidth and network usage data. It can be used to monitor bandwidth usage of routers and switches port-by-port as well as device readings like memory, CPU load, etc.
Packet Sniffing: With its Packet Sniffer PRTG can inspect all network data packets passing a network card. You can monitor either only the traffic of the machine running PRTG or all network
PRTG has a clear, straightforward licensing structure and its pricing is optimized for SMEs.
No add-ons, no modules – every feature is included in each license
Multi-location monitoring and failover cluster included
Fair upgrade model – just pay the price difference
 
Perpetual licensing: Easy, one-time payment
| | | |
| --- | --- | --- |
| License | Sensors | Price including 12 months maintenance |
| PRTG 500 | 500 | US$ 1,799.00 |
| PRTG 1000 | 1,000 | US$ 3,399.00 |
| PRTG 2500 | 2,500 | US$ 6,899.00 |
| PRTG 5000 | 5,000 | US$ 11,999.00 |
| PRTG XL1/Unlimited | not restricted | US$ 15,999.00 |
|   |   |   |
Contact Us