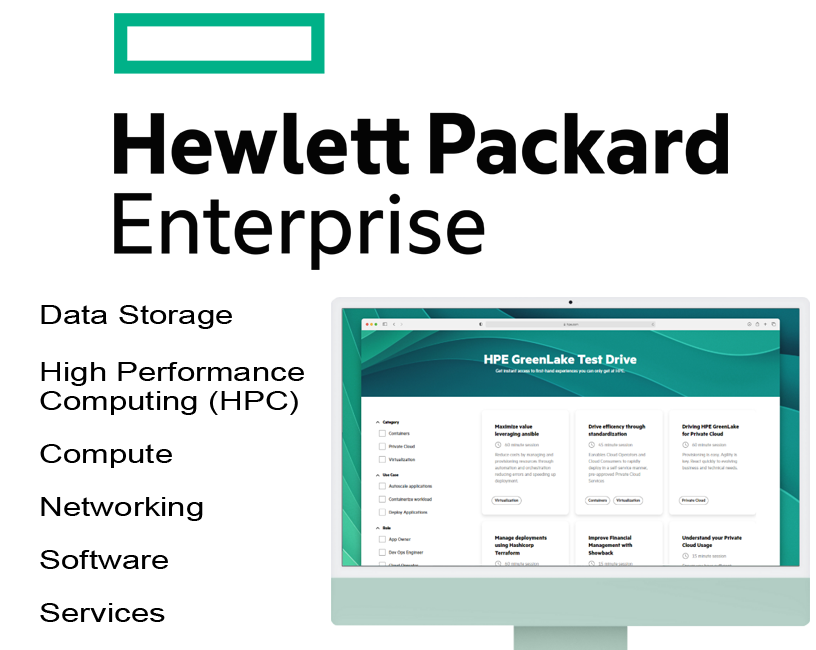 Data Center Solutions
HPE GreenLake is the edge-to-cloud platform that brings the cloud to you.
Dozens of cloud services span infrastructure, platforms, and workloads, and are delivered to your environment on purpose-built cloud-native infrastructure called HPE GreenLake Lighthouse.
Deploy resources and gain cost and capacity insights with HPE GreenLake Central.
Stay or Go? Do both with HPE GreenLake
The question of moving your IT to the cloud sounds like a simple one.  However, it's got answers that are pretty complicated.  All kinds of things to consider as well.  What if you didn't have to choose? What if you could stay and go?
Say hello to HPE GreenLake.  A cloud platform that's edge-to-edge and is built to help you solve this exact problem.   Bringing the cloud to you,  and you get to decide.
Overview
Data Storage
High Performance
Compute
Networking
Software
Contact Us
Overview
HP Servers
Manage your infrastructure throughout its lifecycle with HP Server Infrastructure Management, from scalable on-premise management to cloud-based, anytime/anywhere access to health monitoring and warranty/contract tracking.
– Nearly every aspect of your daily life is powered by HP ProLiant servers.
– ProLiant servers offer a comprehensive portfolio for companies of all sizes, across all industries, and for all types of workloads.
– You can adapt quickly to changing conditions with HP Integrity servers' unparalleled reliability, availability, and security.
– Power and cooling costs can continue to eat into the IT budget as your data center grows.
– Integrating embedded on-system capabilities, like scalable on-premises management and cloud-based warranty and contract tracking, allows you to manage your infrastructure across its lifecycle.

Your organization has to deal with data.   How do you manage it, maximize the value get from it, and most important, how do you secure it?
Data generated and stored everywhere, from the edge to the cloud, isn't easy to manage.
The decision is yours: should you move your applications and data to the cloud, or keep them where they are?
Neither option comes without tradeoffs, and neither can be chosen without weighing the pros and cons.
What if you didn't have to make a choice?
Bringing the cloud to you, HPE GreenLake is your edge-to-cloud platform for modernizing and transforming data wherever it lives.
Data Storage
High Performance
Compute
Networking
Software
Contact Us