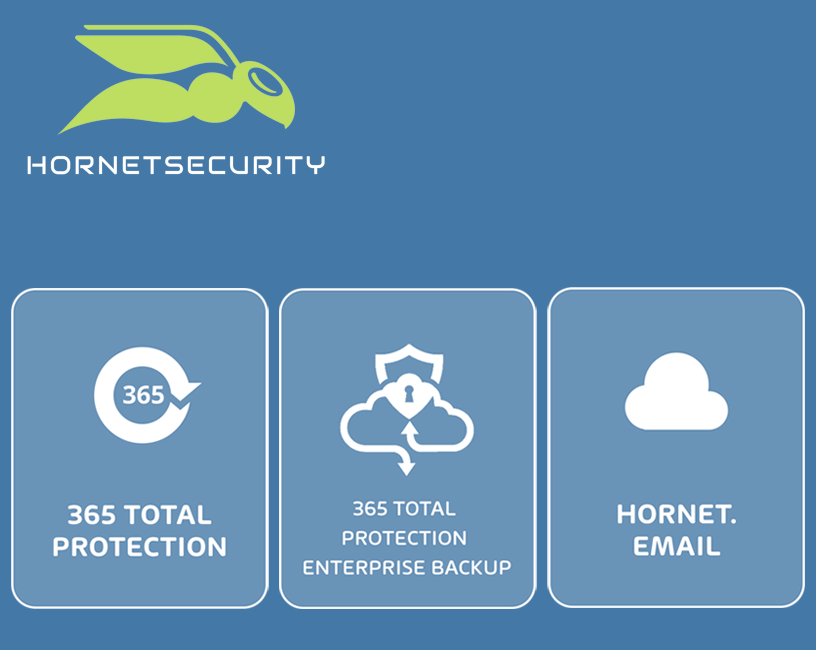 Microsoft 365 Security
Leading email cloud security company Hornetsecurity protects businesses and organizations of all sizes across the globe.
The company's award-winning product line addresses all crucial facets of email security.
HelpNetSecurity awards 5 stars to 365 Total Protection Enterprise Backup
In an extensive review of 365 Total Protection Enterprise Backup, this veteran information security publisher concluded: "If you are running a Microsoft 365 environment and you care about email protection and backup, I can recommend this solution. It provides a centralized backup solution, adds extra security layers over Microsoft 365 services, and offers value for both users and IT administrators."
Hornet.email allows versatility with contractors & consultants
Do you frequently collaborate with independent contractors or consultants? You don't need any further Microsoft licences as they typically only email from your domain for a limited time.
Overview
Complete Security for Microsoft 365
Defend your Microsoft 365 environment from sophisticated threats, data loss, ransomware, and phishing. The only available software for Microsoft 365 security that addresses every aspect.
Microsoft cloud services are fully protected by 365 Total Protection from Hornetsecurity, which was created especially for Microsoft 365 and effortlessly integrated to deliver full protection for Microsoft cloud services. 365 Total Protection simplifies your IT Security administration from the outset and is incredibly simple to set up and use.
For Microsoft 365, Full Security, Compliance & Backup
With our most complete suite solution for Microsoft 365, you receive peace of mind. Your experience is improved by seamless integration, easy maintenance, and potent features.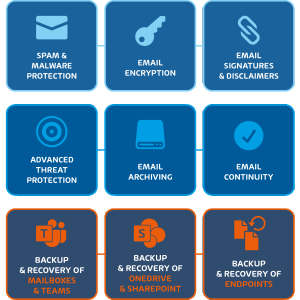 With 365 Total Protection Enterprise Backup, a cutting-edge cloud-based, all-in-one protection and backup package, you can defend your Microsoft 365 against phishing, ransomware, sophisticated threats, and data loss.
Take advantage of Hornetsecurity's experience as a top provider of email security and backup services. They are renowned for their time-proven, award-winning products, 365 Total Protection (email security for M365) and 365 Total Backup (backup and recovery for M365).
A Completely Protected Mailbox
The most effective spam, malware, and other advanced cyber threat security filters are already included into this cloud-based corporate email account.
Hornet.email is a cloud-based platform for business communications that directly integrates the best spam and virus filters available on the market.
Based on various security layers and AI-based analysis, the secure email and collaboration environment, which includes a mailbox, calendar, and address book, provides users with the highest level of protection against spam, phishing, and other online threats. Users are shielded from dangerous infections by ransomware or malware as well as bothersome spam email floods thanks to the market's best guaranteed rates of spam and virus detection.
Several Email Providers On One Domain
Use the less priced Hornet.email alternative and reserve the Microsoft 365 licence for contractors, interns, and other small businesses. As a result, you may manage many email services using a single domain without compromising your security standards.
Collaborate Several Ways
Hornet.email is a secure hosted email alternative that is affordable and has several features for teamwork, including a calendar, address book, and tasks. Take advantage of Hornet.email's easy interface and cutting-edge filtering technologies right away for maximum protection.
Synchronisation Across All Platforms
Hornet.email and all of its capabilities are accessible from any modern PC (Windows, Mac, Linux) and mobile device via web interface, native applications, and Outlook clients (iOS, Android).
Contact Us