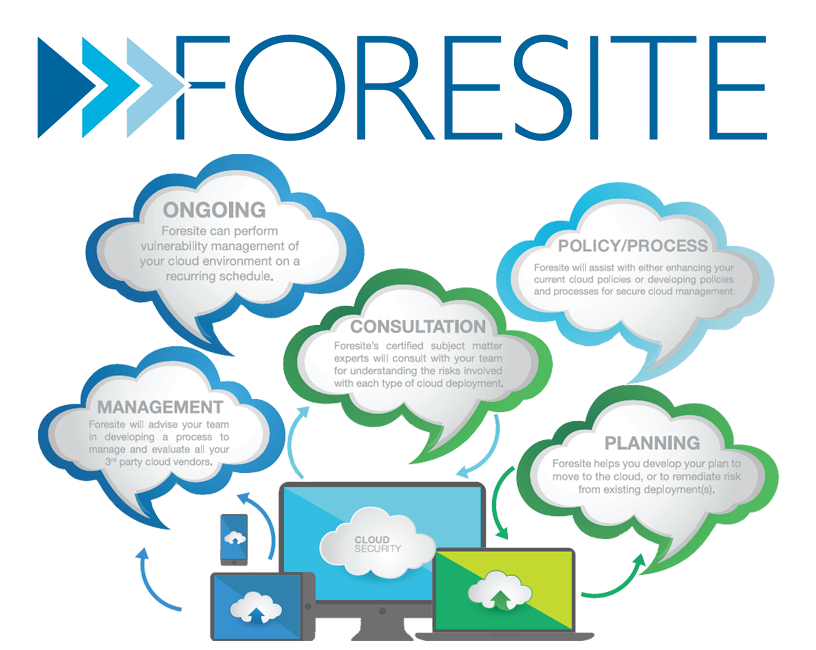 Managed Security & Cyber Consulting
Foresite (a global service provider) delivers an array of managed consulting and security solutions to help their clients meet compliance and information security initiatives.

These solutions let organizations proactively identify as well as respond to cyber-attacks and breaches where they occur, and remediate them.
Why you need MDR
Once you know what managed detection and response (MDR) is, the next question is often if the cost is worth the benefit for your organization.
Here's how to decide if you should invest in an MDR solution.
Overview
Managed Security Services
Security Monitoring & Alerting
Enterprises generate millions of log alerts every day. Foresite helps rule out that noise and determine what data is meaningful providing you with actionable information that will help you respond and protect against damaging security threats.
24/7 real-time monitoring, alerting, and analysis by certified security analysts
Integrated business intelligence and analytics to make better business decisions
Asset classification and reporting
Flexible and customizable reporting
Easy integration with existing solutions and workflow products
Pre-built security and compliance reports
Threat Intelligence
Organizations like yours continue to fight an asymmetric battle against cyber attackers. These attackers are well-funded, sophisticated and well-organized. They use techniques that are highly targeted and which leave technology-only security strategies exposed. To stop them, you need to understand them – how they work and think, and what they want.
Security Device Management
Software that's outdated and devices that are unmanaged can leave your staff, organization and yourself wide open to cyber threats. Foresite can help you manage your organization's security infrastructure and also protect your critical assets so you can leverage their technology investments sooner and longer.
Incident Response
Cyber attacks can severely impact your company's bottom line revenue and damage your company's reputation. Our managed incident response solutions help you stop the attack, assess the damage, and mitigate the impact to your business.
ProVision Platform
Foresite's proprietary management platform is cutting-edge, and will put you in your business's driver's seat for business security and data operations. It's designed to meet today's moste stringent industry standards all with ease of use and flexibility that is unmatched.
Cyber & Compliance Services
Certifications
Foresite's experience and education differentiate us from their competition. It's vital that, as technology evolves – that businesses in this industry work harder and harder to stay informed and keep ahead of the inevitable curve. Foresite That's why we do our best to earn each and every certification relevant to our field of business – as well as yours. Below is a list of our various certifications and credentials.
Security Testing & Assessments
Organizations like yours are under the constant threat of cyber attack. These continuously evolving attacks get more sophisticated and persistent. Then, as an organization's technology needs keep increasing, your potential vulnerabilities and entry points can also increase. To deal with such persistent threats, organizations must implement the most advanced security testing policies. Waiting until an attack has begun can mean the difference between a huge crisis vs a small issue.
Social Engineering
In any security system, the weakest link is usually the human element. Scrupulously tight security systems will be defeated by just one person who acts in a manner that's unauthorized. An attacker will frequently take advantage of an end user's lack of security awareness as well as the innate desire most of us have, to be helpful
Impersonation Attack: In this case, the badguy will make use of information about your staff which is publicly available. They will impersonate someone like a repairman, vendor, manager, trusted third party to get their hands on physical / digital access to a specific facility.
Spear Phishing: These emails are specifically designed to fool your employees into performing some type of action – typically clicking on a particular link or opening an attachment. It usually ends by getting them to expose some of their credentials – or perhaps enabling remote control of their machines.
Media Drop: Some type of disposable media, like a USB stick or CD is made by the badguy. They "drop" them in carefully chosen areas in a way to entice your employees to pick them up – curious about what they might contain. Perhaps even labelled "money" or "accounts" etc. If your staff insert them into one of your machines, it triggers a notification or compromise of some kind.
Compliance Services
It's easy to find data compliance confusing? So many acronyms for various types of data, industries, and required methods of storage make regulations difficult form someone without technical expertise to interpret. Foresite makes these complicated compliance issues easy for non-technical executives to understand. You'll be walked through your current compliance operations and get suggestions for improvement.
Vendor Management Services
Many organizations partner with third-party vendors as an essential part of their business.
It lets them to keep their costs down, reach larger segments of their market and focus on core areas of theie business. However, are you aware of the risks that those relationships could possibly expose your organization to?
Risk assessments. When you work with a particular vendor – how much risk are you exposing yourself to? Foresite will work with them to determing the level of risk and what mitigation steps need to be taken.
Security assessments: Perhaps your potential partner has some serious holes in their data security strategy? Foresite will assess their operations and find out whether they are a good fit for your business in addition to making recommendations on how they can be brought up to speed.
OCIE cybersecurity initiatives reviews: Foresite will conduct a full review of your partner's operations and will compare them to OCIE cybersecurity initiatives. That outlines proper data loss prevention, access rights and vendor management practices.
NIST SP800 guideline assessment: Requirements for developing federal information systems are outlined in the NIST SP800. The NIST SP800 is the industry standard for security planning – and regardless of whether or not you are – Foresite uses as a guideline when conducting your security assessment.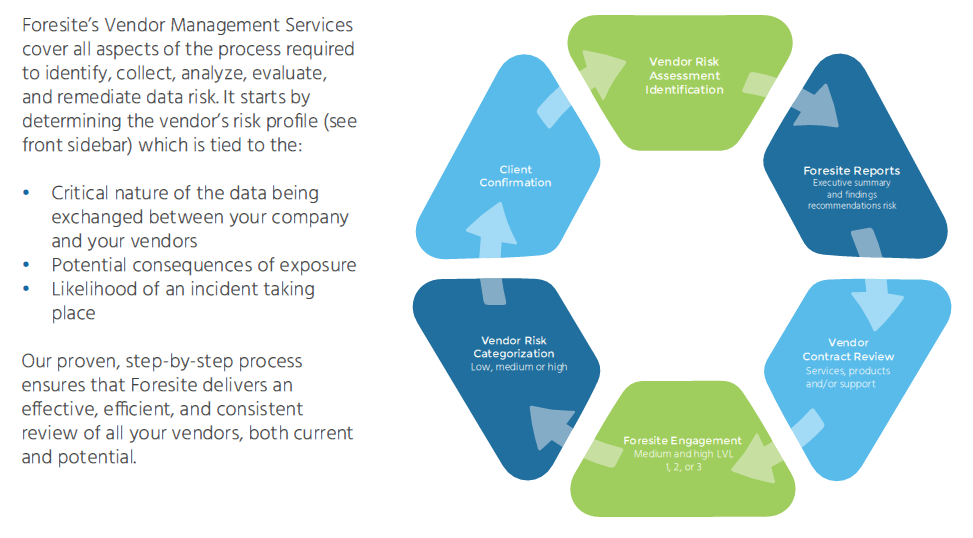 Contact Us