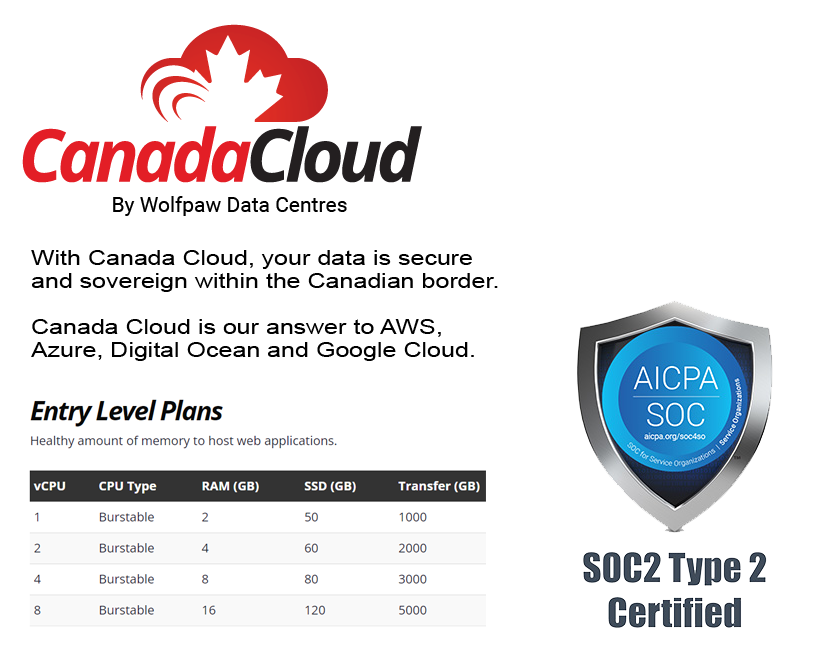 Powerful And Easy To Understand Cloud
The Canada Cloud service encompasses the aspects you most need of a cloud service – already included!
No tricky set of addons, or hidden fees.  If you're able to use a virtual machine, you're ready for Canada Cloud.
All our client's data is held across 2 physically separate datacentres all the time, and our system is a multi-site cloud of these geographically separated nodes.
How much extra does this resilience cost?  Nothing.
Overview
Your organization's data is kept both secure, and sovereign within the borders of Canada.  Canada Cloud is owned by Wolfpaw Data Centres Inc.
This is Canada's answer to Azuer, Google Cloud, AWS and Digital Ocean.
Your hosted services and data will be resilient and reliable and are secured in our data centres and are backed by a 100% network, and 99% cloud uptime guarantee.
One of Canada's top data centres, Wolfpaw was founded in 1998 and provides services to many businesses.  Known for their speed, reliability and quality, they've been known for pushing the envelope of what can be delivered online.
They provide enterprise-level connectivity, co-location as well as server and site hosting.
Contact Us