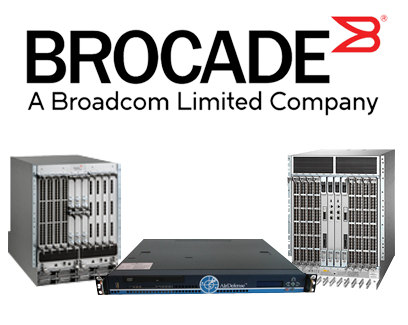 Innovative Network Solutions
Brocade provides innovative network solutions that help the world's leading organizations transition smoothly to a virtualized world where applications and information can reside anywhere. These solutions deliver the unique capabilities for a more flexible IT infrastructure with unmatched simplicity, non-stop networking, application optimization, and investment protection.


Application Delivery
Big Data
BYOD
Business Continuity
Network Security
Unified Communications
Mobility
Switches, Routers, Network Functions Virtualization, Application Delivery Switches, Wireless LAN Access Points, Wireless LAN Controllers, SAN Backbones, SAN Backbone/Director Blades, Transceivers, Management Software, Adapters, Security Appliances.
Brocade Gen 7 Enables an Autonomous SAN
Imagine your data center optimized to significantly simplify your day-to-day management tasks and deliver unparalleled network performance and reliability.
Brocade Gen 7 technology makes this possible by combining unmatched performance, powerful analytics and advanced automation capabilities to transform your network into an autonomous SAN. Modernize your SAN with Brocade Gen 7 to enable a faster, more efficient, and more resilient network.
Overview
Switches
Industry-leading Brocade switches are the foundation for high-performance connectivity in storage, IP, and ethernet fabric network environments.


Routers
Brocade offers a complete family of Ethernet routers for enterprise, data center, and service provider networks..


Network Functions Virtualization
A comprehensive suite of Network Functions Virtualization (NFV) solutions with the Brocade Vyatta vRouter and the Brocade Virtual ADX – helping build fast, effective, secure networks.


Application Delivery Switches
Application delivery platforms and solutions designed the meet the needs of the most demanding carrier, content provider, and cloud provider networks.


Wireless LAN Access Points
Brocade offers a variety of dependent and adaptive Access Points (APs) to support high-performance, reliable, and secure 802.11n-based wireless communications.


Wireless LAN Controllers
Brocade Mobility Wireless LAN (WLAN) controllers enable secure, real-time data access in environments ranging from remote offices to large enterprises.
SAN Backbones
The Brocade DCX 8510 and Brocade DCX Backbone families are designed to unleash the full potential of private cloud storage.


SAN Backbone/Director Blades
Brocade offers cost-effective, integrated blades for use in the Brocade DCX Backbone family and Brocade 48000 Directors.


Transceivers
Brocade optical transceiver modules connect Brocade switches, directors, backbones, HBAs, and CNAs to a broad spectrum of data center resources.


Management Software
Brocade offers comprehensive network management solutions that help organizations simplify management to improve efficiency and reduce costs.


Adapters
Brocade server connectivity solutions provide enterprise-class SAN and LAN connectivity for servers.


Security Appliances
Motorola AirDefense Enterprise Appliances for Brocade Mobility solutions provide the industry's most powerful wireless Intrusion Prevention System (IPS).
Contact Us