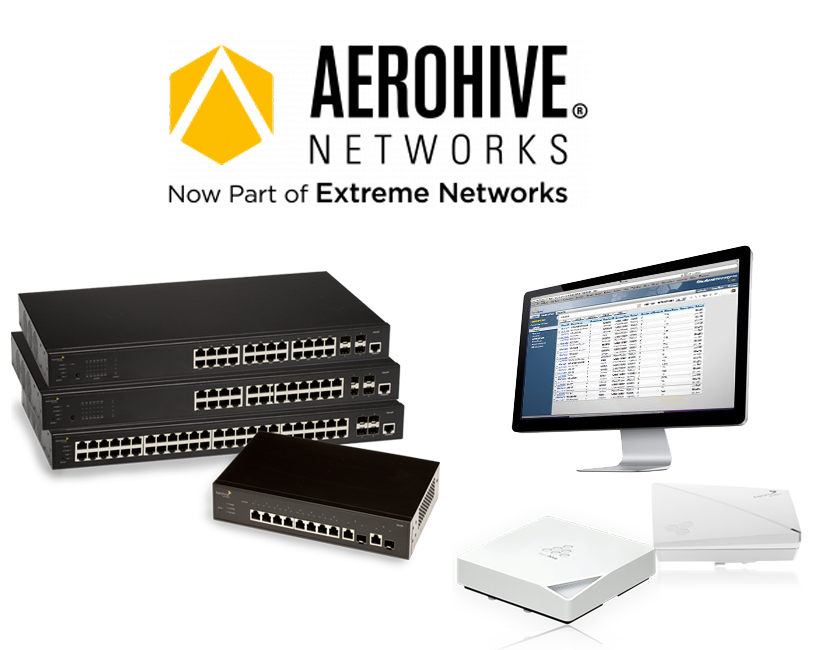 Controllerless Wireless Access Points
Aerohive Networks (Part of Extreme Networks) reduces the cost and complexity of today's networks with cloud-enabled Wi-Fi and routing solutions for medium and large enterprise headquarters, branch offices and teleworkers.
Productive Mobility
Cloud-enabled Networking
Extended Enterprise Networking
First ever CGNAT for IPv4 Preservation on an ADC
Mission-critical reliability without bottlenecks or single points of failure.
Aerohive's award-winning cooperative control Wi-Fi architecture, public or private cloud-enabled network management, routing and VPN solutions eliminate costly controllers and single points of failure.
Make your organization "infinite" with Extreme Networks.
Infinitely distributed, consumer-centric and scalable solutions enabling customers with cloud-driven connectivity to remote workplaces, distant learning, telemedicine, and more.
Overview
Access Points
Aerohive's 802.11n and 802.11ac enterprise wireless LAN access points are an innovative class of wireless infrastructure equipment with cooperative control technology that provides the benefits of a controller-based wireless LAN solution, without requiring a controller or an overlay network.


Routers
Aerohive routers combine "work anywhere" mobility with enterprise routing functionality and complete security – all in a single device.

Aerohive routers can be provisioned for maximum convenience and cost-effectiveness – organizations may choose to purchase routers outright or via the innovative Network-as-a-Service subscription offering. This subscription includes the router itself and HiveManager Online, for the ultimate in simplicity and flexibility. Routers require no end-user intervention, but rather ?phone home? for configuration details pushed from a private or public cloud. The result is a unique, zero-touch branch office network deployed by plugging in the power cord. Aerohive finally makes it possible to centrally activate thousands of remote users without remote expertise!


Switches
Aerohive Networks SR platforms combine enterprise-class access switching with cloud-enabled management, on-demand provisioning, and secure branch routing to provide the industry's most advanced networking feature set to the edge of your network.
Network Management
Aerohive's HiveOS is the operating system that powers their access points and routers, while HiveManager is the network management system (NMS) for configuration and monitoring. Together, with Aerohive access points and routers, these comprise a complete, controller-less Wi-Fi and remote network solution.


Cloud Services Platform
A globally distributed, cloud-based infrastructure that is home to Aerohive developed Software-as-a-Service (SaaS) applications, including HiveManager Online. It also leverages their patent-pending Cloud Proxy feature that seamlessly integrate a set of partner cloud applications to create robust solutions for Aerohive customers.


Apps
Aerohive's powerful applications add features, functionality, and value to the complete Aerohive Wi-Fi solution. Apps such as StudentManager and TeacherView can help school districts monitor and track wireless clients.
Contact Us